The future of telehealth: How COVID-19 transformed the virtual office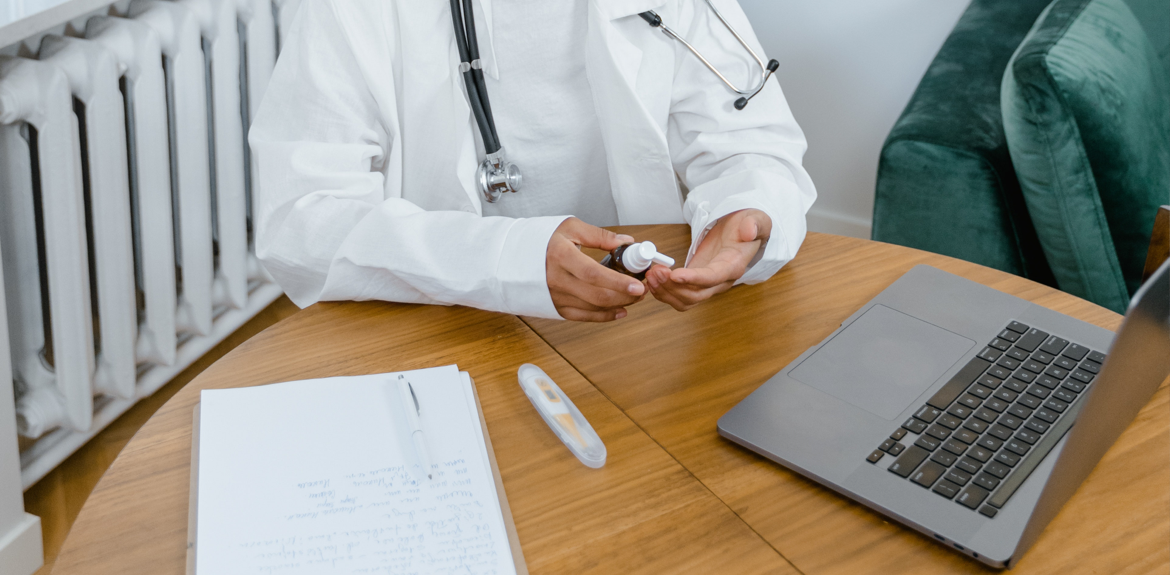 Although telehealth has been technologically possible for decades, it has only recently come into common usage.1 Telehealth is defined as the delivery of healthcare services over a distance, through the use of some type of technology.2 Patients can access a wide range of medical care through telehealth, including:3
Primary care consultations
Psychotherapy and psychiatric services
Physical therapy and speech therapy
Prescriptions and prescription renewals
Assessment of whether in-person treatment is required
Even some emergency services
In this, the first article in our Future of Telehealth blog series, we discuss how COVID-19 contributed to the meteoric rise of telehealth and take a glimpse into what it might look like as we come out of quarantine and into a post-COVID-19 world.
Telehealth prior to COVID-19
Currently, 76% of U.S. hospitals offer telehealth services, compared to just 35% ten years ago.2 One study showed that telehealth visits made up only 0.3% of total outpatient appointments from March to June, 2019; one year and a pandemic later, from March to June, 2020, telehealth visits made up 23.6%.4, 5
Prior to the COVID-19 pandemic, there were numerous barriers to the use of telemedicine. For instance, few insurance plans covered telehealth visits.5, 6 Medicare considered telehealth almost exclusively a tool for use in rural areas.5, 6 They required patients to be located in a geographic area considered a Health Professional Shortage Area, or in a county outside of a Metropolitan Statistical Area, as defined by the U.S. Census Bureau. They also required telehealth services to be delivered to patients at an "eligible facility," such as a provider's office, hospital, skilled nursing facility, or rural health clinic.6 The only patients permitted to receive telehealth services at home were those with end-stage renal disease who were receiving home dialysis or patients with substance use disorders.7
Accelerated adoption of telehealth
Despite its slow start, the public health crisis caused by the COVID-19 pandemic greatly accelerated the adoption of telehealth.1
The first confirmed COVID-19 case in the U.S. was reported January 20, 2020. By September, 2020, there had been more than 6.6 million confirmed cases and 196,277 deaths.6 As a result, the American Academy of Family Physicians said that providing care via telehealth was a key part of clinic workflow in order to reduce the risk of spreading the virus. Remote access to care was considered important not only for patients who were symptomatic and possibly contagious—those who were suspected of having COVID-19—but also for patients who needed preventative care and other types of services who did not want to risk exposure.7
In addition to the obvious need to minimize spread of the virus, it became critical to prevent exposure to vulnerable patients who were more likely to experience adverse health outcomes as a result of COVID-19. Telehealth became one of the cornerstones of caring for vulnerable patients during the COVID-19 crisis.6
The Centers for Disease Control and Prevention (CDC) recommended the use of telehealth as part of their interim guidance for dealing with COVID-19. In addition, legislation reduced the restrictions on telehealth in response to the pandemic, allowing clinicians to provide telehealth services that were reimbursed at the same rate as in-person visits.7 The U.S. Department of Health and Human Services, with the Coronavirus Preparedness and Response Supplemental Appropriations Act, waived certain Medicare restrictions on telehealth, such as:6, 7
Expanding the list of services eligible for telehealth
Expanding the list of providers eligible to provide telehealth services
Waiving the requirement for patients to originate telehealth visits from a specific location, such as a clinic that they would drive to, rather than from their homes
Some payers have adopted these guidelines. In addition, some states have waived their licensure requirements so that physicians could increase their ability to provide telehealth services across state lines.7 As a result, many practices began their journey into virtual health care, adopting telehealth in 2020 to better serve their patients. When surveyed, 73% of providers trained physicians for telehealth in response to COVID-19 and 74% of providers who had previously offered telehealth expanded their offerings in 2020.8
Nursing executives from hospitals in all parts of the country reported that telehealth became an integral part of patient care throughout the pandemic. Furthermore, these executives reported that they planned to continue the use of telehealth's digital tools post-pandemic as well.10 Medical providers share the sentiment: When surveyed, 94% of respondents reported that they believed telehealth was a long-term strategy that would last beyond COVID-19.8 Globally, analysts predict the telehealth market will grow to approximately 191.7 billion dollars by 2025, from an estimated 38.7 billion dollars in 2020.9
The future of telehealth
At the time of this writing, the urgency of the pandemic is beginning to fade; telehealth is no longer required as an emergency measure to prevent the spread of COVID-19. The crisis is passing—but both healthcare providers and patients have learned that telehealth offers many advantages, and that it is a useful solution for many types of healthcare needs.
Research shows that telehealth works in most situations, even for serious medical conditions.3 For instance, a 2017 systematic review of the use of telemedicine for treating chronic heart failure found numerous benefits, such as lower hospital admission rates, shorter hospital stays, and fewer deaths in those receiving telemedicine care.3, 11 In cancer-specific populations, telemedicine has been shown to improve:6
Timeliness of diagnosis and treatment
Access to care
Patient convenience
Now that telehealth has demonstrated its many uses and benefits, it is likely to play a role in future clinical practice.6 Hospitals, healthcare clinics, and doctors' offices across the country are asking what that role will be. What will telehealth look like, going forward? In a recent survey, 71% of providers said that it was a high priority moving forward, but only 66% have a telehealth strategy in place.8 Many healthcare providers are still trying to figure out how best to use telehealth in a post-pandemic world.
Over the next few weeks, we'll be continuing our blog series on the future of telehealth in a post-pandemic world, and what that means for small and independent healthcare practices like yours.
References:

Whelan C. 17 Benefits of Telemedicine for Doctors and Patients. Healthline. Updated November 9, 2020. Accessed June 1, 2021, https://www.healthline.com/health/healthcare-provider/telemedicine-benefits.

Telehealth: The advantages and disadvantages. Harvard Health Publishing. Accessed June 1, 2021, https://www.health.harvard.edu/staying-healthy/telehealth-the-advantages-and-disadvantages.

Telemedicine benefits: For patients and professionals. Medical News Today. Updated April 20, 2020. Accessed June 1, 2021, https://www.medicalnewstoday.com/articles/telemedicine-benefits.

Nelson H. Social Determinants of Health Stymied Pandemic Telehealth Use. mHealth Intelligence. Updated March 24, 2021. Accessed June 1, 2021, https://mhealthintelligence.com/news/social-determinants-of-health-stymied-pandemic-telehealth-use.

Weiner JP, Bandeian S, Hatef E. In-Person and Telehealth Ambulatory Contacts and Costs in a Large U.S. Insured Cohort Before and During the COVID-19 Pandemic. JAMA Netw Open. 2021 4(3):e212618. doi:10.1001/jamanetworkopen.2021.2618.

Kircher SM, Mulcahy M, Kalyan A, Weldon CB, Trosman JR, III ABB. Telemedicine in Oncology and Reimbursement Policy DuringCOVID-19 and Beyond. J Natl Compr Canc Netw. September 30, 2020 doi:10.6004/jnccn.2020.7639.

Magoon V. Operationalizing Virtual Visits During a Public Health Emergency. Fam Pract Manag. May-June, 2020 27(3):5-12.

Teladoc Health Inc. 2020 Telehealth Benchmark Survey Results. 2021. https://assets.ctfassets.net/l3v9j0ltz3yi/7xVvJgwWNMam7BngqqftNm/fbc94f76e74b2ab096a67d29e98c74db/2020_Telehealth_Benchmark_Survey_Results.pdf.
Telehealth/Telemedicine Market by Component (Software & Services, RPM, Real-Time), Application (Teleradiology, Telestroke, TeleICU), Hardware (Glucose Meters), End-User (Provider, Payer, patient), Delivery (On-Premise, Cloud) Global Forecast to 2025. Telehealth/Telemedicine Market. Updated November 2020. Accessed July 22, 2021, https://www.marketsandmarkets.com/Market-Reports/telehealth-market-201868927.html.

Jerich K. Nursing execs dish on the digital health tools they've found most useful during the pandemic. HealthcareIT News. Updated May 12, 2021. Accessed May 31, 2021, https://www.healthcareitnews.com/news/nursing-execs-dish-digital-health-tools-theyve-found-most-useful-during-pandemic.

Lin M, Yuan W, Huang T, Zhang H, Mai J, Wang J. Clinical effectiveness of telemedicine for chronic heart failure: a systematic review and meta-analysis. Journal of Investigative Medicine. 2017 65(5):899-911.