Practice Fusion helps Maine providers with new Controlled Substance e-Prescribing mandate before July 1 deadline
We're happy to announce that Practice Fusion's certified e-prescribing of controlled substances (EPCS) feature is ready to help you meet Maine's new EPCS mandate.
With EPCS activated, you will be able to e-prescribe controlled substance medications right from within your EHR.
Our EPCS feature is available for all practices in Maine so that licensed providers can e-prescribe opioids and other controlled substances to meet the mandate under Maine's new EPCS law, L.D. 1646, An Act to Prevent Opiate Abuse by Strengthening the Controlled Substances Prescription Monitoring Program.
Starting July 1, 2017, the new law requires that physicians use e-prescribing when writing prescriptions for opioids , but you can get started with all the benefits of e-prescribing controlled substances now.
How to activate EPCS
If you're a provider in Maine with e-prescribing enabled, get started with EPCS by navigating to your EHR dashboard and selecting the new EPCS tile, which will guide you through the activation process.
Selecting this tile will let you will see the EPCS activation steps you need to complete.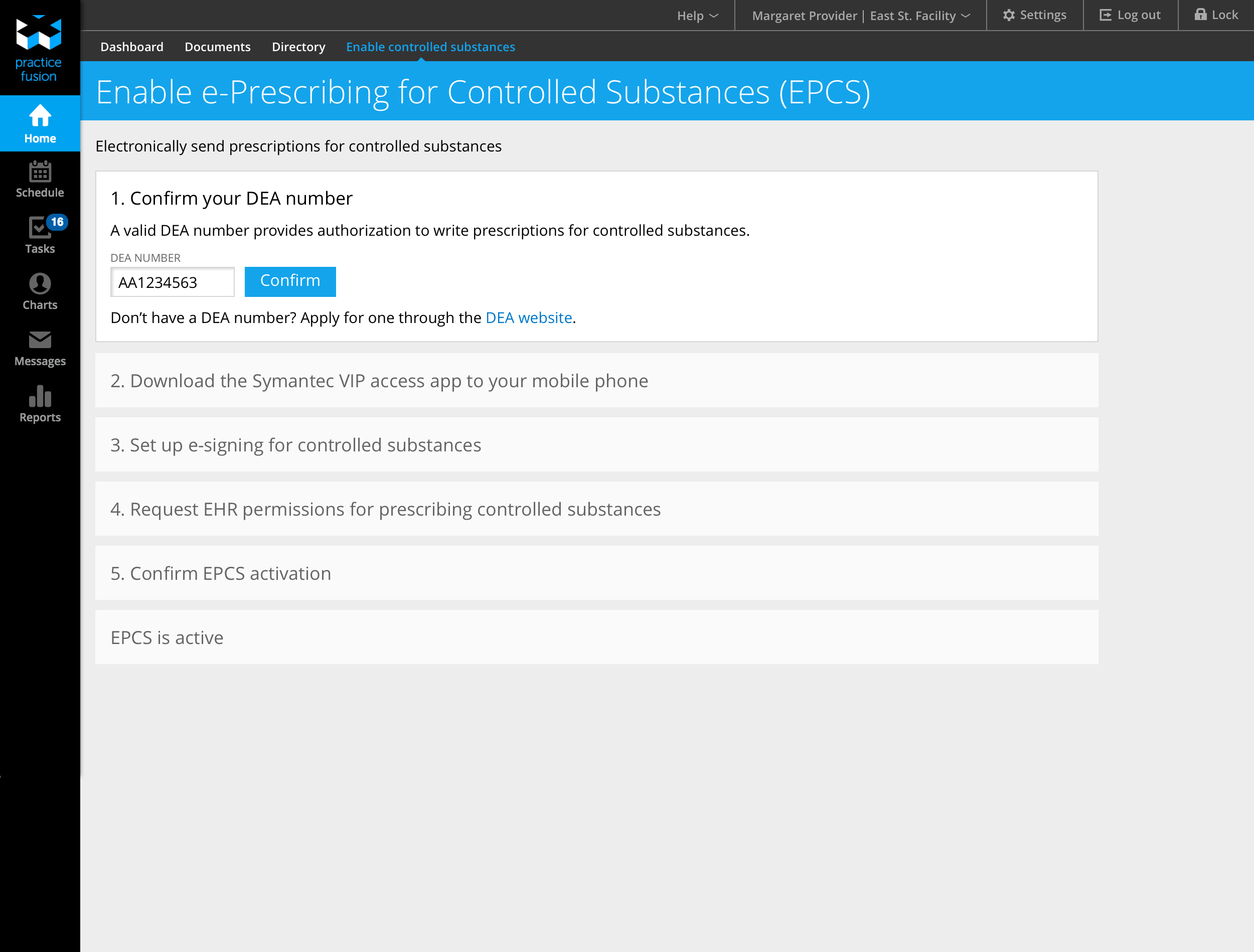 We have made the EPCS activation process straightforward and we'll guide you through each step. If you need to stop in the middle your progress is automatically saved — select the EPCS tile again to pick up right where you left off.
Here's how you can get ready

Enable e-prescribing »
Before you can activate EPCS, you will need to sign up for e-prescribing. The process is easy and only takes a few steps to complete.
---

Add an administrator »
The DEA's EPCS regulations require your practice to have at least one user who is not the DEA-registered prescriber to have administrator-level permissions.
---

Confirm you're registered with the Prescription Monitoring Program (PMP) » The new Maine law requires prescribers to check prescription monitoring information prior to prescribing an opioid or benzodiazepine medication.
---

Review additional requirements for opioid dosing and continuing education »
The new Maine law establishes limits on opioid prescribing and includes a requirement to complete an approved opioid prescription training course by December 31, 2017.
Want to learn more? See our activation guide
Check out our walkthrough of the EPCS activation process to get more detailed guidance for every step or contact us through our Help Center.
Interested in providing product feedback and testing features like EPCS? Let us know »