Imaging results straight to your EHR
Save time with free integrated imaging
Practice Fusion provides free integration to imaging centers nationwide, allowing you to receive radiology reports directly in your EHR. With a live connection to an imaging partner you'll be able to:
Receive patient imaging results and radiology notes electronically.
Instantly share reports with patients in Patient Fusion.
Track patient results in your EHR to attest for Meaningful Use.
Evaluate patients more longitudinally with all their diagnostic imaging in one convenient location.
A powerful network for your medical practice
With more than 112,000 monthly active health care professionals logging into our EHR on a monthly basis, our cloud-based system has the largest physician-patient community in the US.
We support connections to over 200 imaging partners for services that include:
| X-ray | Mammography |
| --- | --- |
| CT | PET |
| MRI | Nuclear medicine |
| Fluoroscopy | Ultrasound |
We're continuously adding more centers to our network to ensure that you have the best diagnostic partnerships to help your practice and suit your workflow.
Connecting to an imaging center is easy
To get started, log in to your account and select the Imaging Centers tile.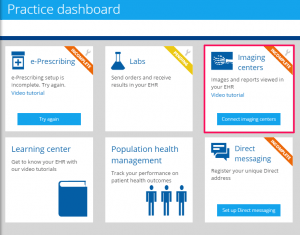 Search for imaging centers in your area by name or zip code. You can further refine your results by using the filters on the left hand sidebar.

Click Add to request a connection to any of the listed imaging centers. You can connect to a new center using your NPI number or connect your existing imaging center to your EHR with a current imaging account number.
We'll contact the center with your practice details and work to get your connection live as quickly as possible. You will receive email communication from us throughout the process to keep you informed. Once you're connected, imaging reports and radiologist's notes will be delivered automatically to the Tasks section of your EHR.
View our detailed step-by-step walkthrough to learn more about easily accessing imaging results in your EHR.
Don't see your preferred imaging center?
We'll work to integrate them into our network. We are rapidly connecting new imaging centers across the country to better serve your needs. Request a new partner now.