What are the benefits of e-prescribing?
Save time and resources. Since electronic prescriptions are delivered directly to the pharmacy's computer systems, there's less need for pharmacy staff to manually enter data or call or fax to clarify orders.
Improve patient safety. Pharmacists are less likely to interpret electronic orders incorrectly.
Lower costs. Surescripts released a study finding that electronic prescribing increases first fill medication adherence by 10% and has the potential to save $140 – $240 billion over the next decade.
e-Prescribe on the #1 ranked system
Our fast, flexible, e-prescribing platform is ranked #1 for ease of use. e-Prescribe to over 98,000 pharmacies — including Longs, CVS, Walgreens, Costco and Wal-Mart — with the most connected network in health care.
e-Prescribe multiple medications in a single order
Reduce double-entry by ordering all your patient's prescriptions in a single electronic order.
Modify or edit each prescription to ensure SIG, script date, refill count and more are accurate prior to sending.
View your ordering screen side-by-side with the patient's chart or encounter, so you always have context on the patient's current status.
Drug-drug and drug-allergy interaction checks display for each individual medication, helping you meet Meaningful Use e-prescribing measures, maximizing EHR incentives, avoiding penalties
and ensure quality of care.
Save time with instant two-click prescription refills
Once you start e-prescribing in Practice Fusion, patients and pharmacies will send you refill requests directly to your EHR. With only two clicks you can approve or deny refill requests from any internet-connected device.
Anyone in your practice can view the refill requests. This is especially useful when you'll be on vacation, or can't be reached at a given time, allowing other providers in your practice help process your patients' refill requests.
Our e-prescribing system is always getting better with your feedback
We're committed to delivering the features you request, and constantly update our e-prescribing and medication management tools to keep you on the leading edge of care.
No need to create custom medications, since our quick drug search database is always up to date.
Search your frequently prescribed medications to quickly find a medication you're looking for.
Our pharmacy search defaults to searching retail pharmacies in your area and keeps a list of your frequently used pharmacies.
Common SIGs specific to each medication are pre-filled to help save you time.
Save clicks with interaction and formulary alerts available at a glance while recording a medication, before you prescribe.
View the full medication list from any encounter, including medication, SIG, start date, and e-prescriptions.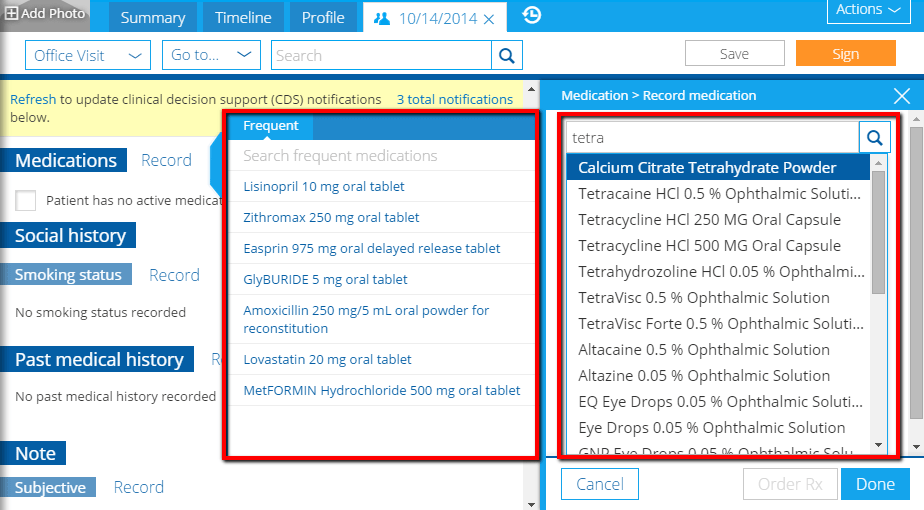 Support patient adherence for the treatment you prescribed
Studies show lack of health literacy is a key barrier to medication adherence. 1 Often patients misunderstand treatment plans or hesitate to ask for further clarifications.
Our EHR allows you to support medication adherence with our cloud-based patient portal, Patient Fusion.
You can automatically provide patients with educational materials at the start of their treatment to better understand their care plan.
Secure, online communication allows you to answer specific patient questions and send reminders to fill prescriptions and take medications.
Your patients can access to their health record and important information regarding their medication anytime they need it.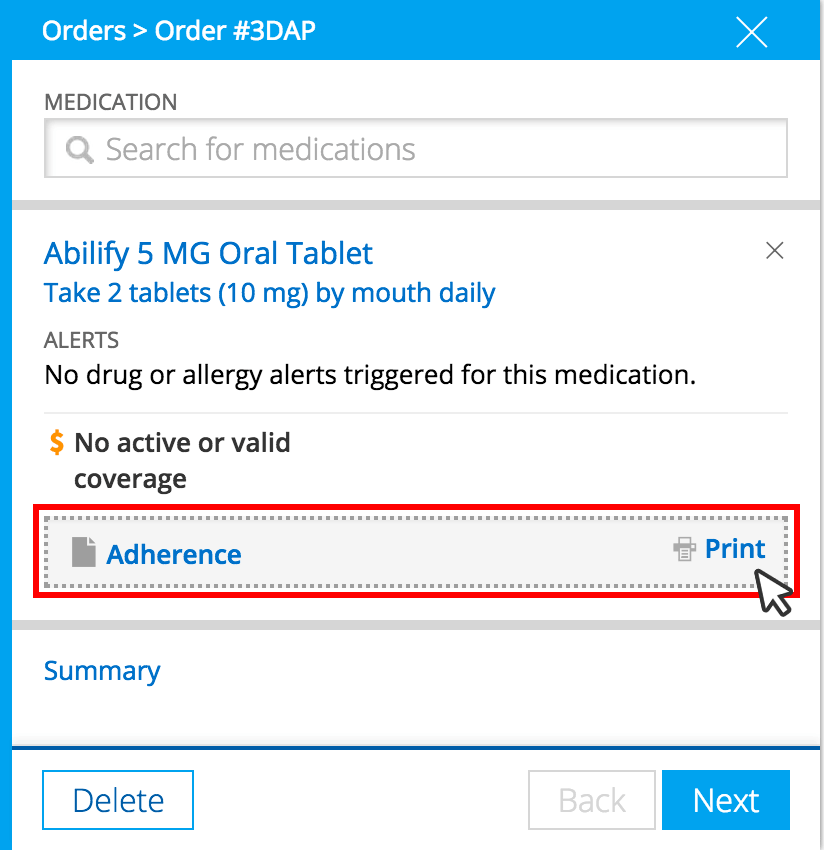 Ngoh, L. (2009). Health literacy: A barrier to pharmacist–patient communication and medication adherence. J Am Pharm Assoc. Journal of the American Pharmacists Association.