What is computerized provider order entry (CPOE)?
Computerized provider order entry (CPOE) is a system that allows a provider to directly enter patient treatment orders with a computer or mobile device. Orders are documented and captured in a digital and structured format that can be communicated over an electronic network.
With no handwritten orders, CPOE improves safety by helping ensure orders are accurately understood. With no phone calls or faxes, electronic prescription orders are instantly transmitted and easily accessed by computer at the pharmacy, reducing delays and increasing organization.
Fulfill Meaningful Use requirements for CPOE medication orders
Meaningful Use is a Medicare and Medicaid program that awards incentives and delivers reimbursement penalties based on clinical quality reporting measures. To achieve Meaningful Use, providers must fulfill clinical quality measures (CQMs) that serve as a roadmap for improving health care.
One core measure is the ability to use CPOE for medication orders. Our e-prescribing system not only helps you fulfill this requirement, but you can also track your progress in meeting CQMs through our Meaningful Use dashboard. Plus, our Meaningful Use Center can guide you through attesting every step of the way.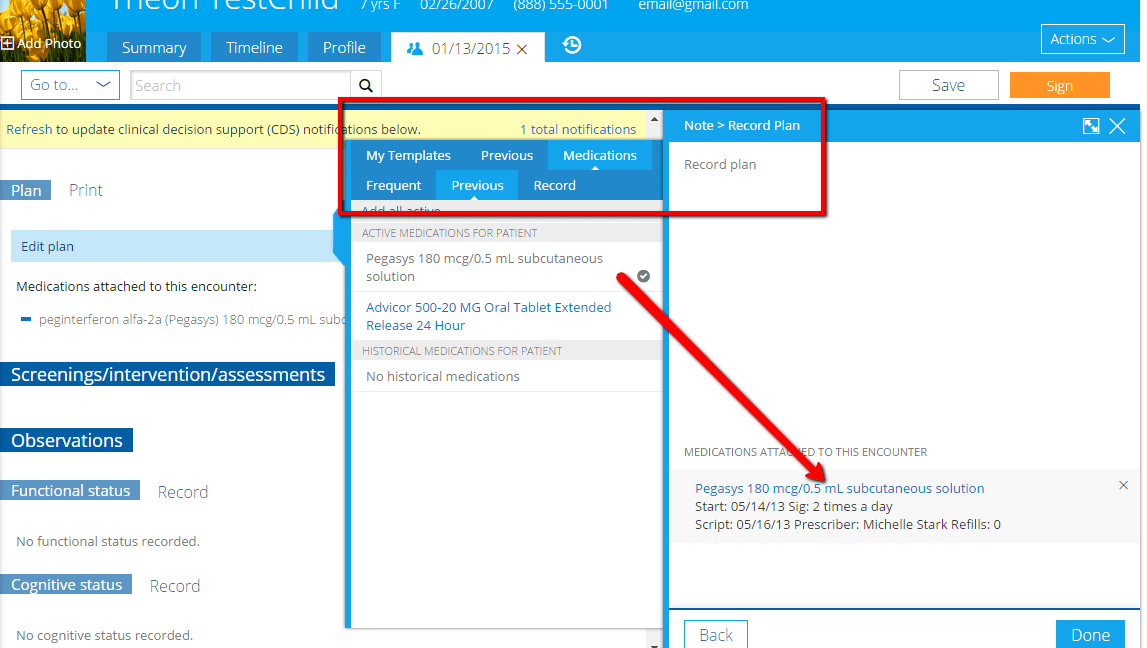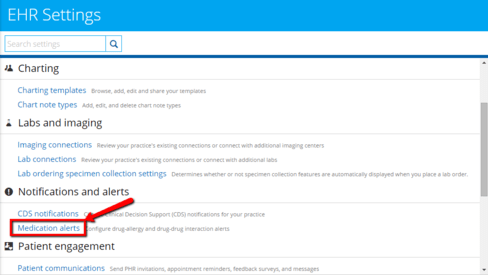 CPOE provides the insight you need to stay on top of patient prescriptions
Our CPOE system also helps gather the information you want when it comes to e-prescribing, such as:
Drug interaction checks. Automatic drug-drug and drug-allergy interaction checks to improve accuracy and help prevent interactions.
Active medication and allergy list. We make it quick and easy to add medications and allergies to the summary tab of the patient's chart.
Drug formulary checks. Automatic formulary checks save your patients money.
Access prescription history for easier medication reconciliation
Our CPOE system allows you to access patient medication history and quickly reconcile each medication with those on your patient's medication list. It automatically checks for the patient's prescription eligibility and medication history from Surescripts. Whether your patient has filed a claim to fill a prescription or paid out of pocket with you or any other provider, our system can conveniently compile a list of the medications that a patient has filled from a number of different sources to make medication reconciliation easy.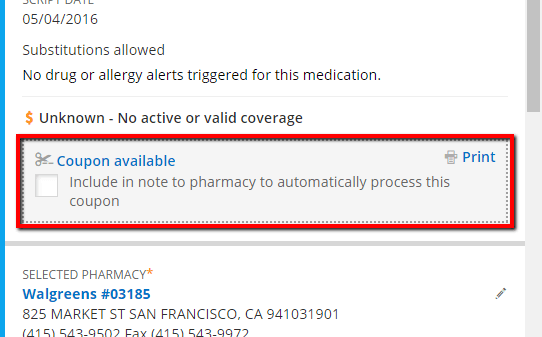 Save your patients money with ecoupons
Our CPOE e-prescribing system also helps your patients access the medications you e-prescribe with ecoupons. After selecting a medication and starting your e-prescription order, Practice Fusion will automatically display a notification if the medication is eligible for a coupon.
When ordering medications, you can send the coupon to the pharmacy to process by the time your patient picks up the prescription.
Manage prior authorizations electronically right from your EHR
Studies show that providers and staff spend over 20 hours a week completing paper prior authorizations.1 Administrative complications and delayed authorizations also prevent up to 70% of patients from receiving the treatment their provider originally ordered.2
We've digitized the prior authorization process for medications to get your patients the care they need, when they need it. Submitting prior authorizations through our e-prescribing system can help prevent unnecessary back-and-forth communication with pharmacies and health plans.
If a prior authorization is required, a task will be automatically generated in the task list for your to complete after you submit the order.
Over 112,000 health care professionals use Practice Fusion for e-prescribing and more
See for yourself why our e-prescribing was ranked #1 for ease of use.
American Medical Association (AMA) Survey, Nov. 2010, Preauthorization Policies Impact Patient Care
FrostSullivan Study, The Impact of the Prior Authorization Process on Branded Medications