Introducing the new eCQM Dashboard
We're pleased to announce that a new eCQM Dashboard is now available in your EHR, which will help give greater insight into your patient population.
The dashboard comes with tools that make quality measures easier to understand and help support your practice's success in participating in the new value-based reimbursement programs.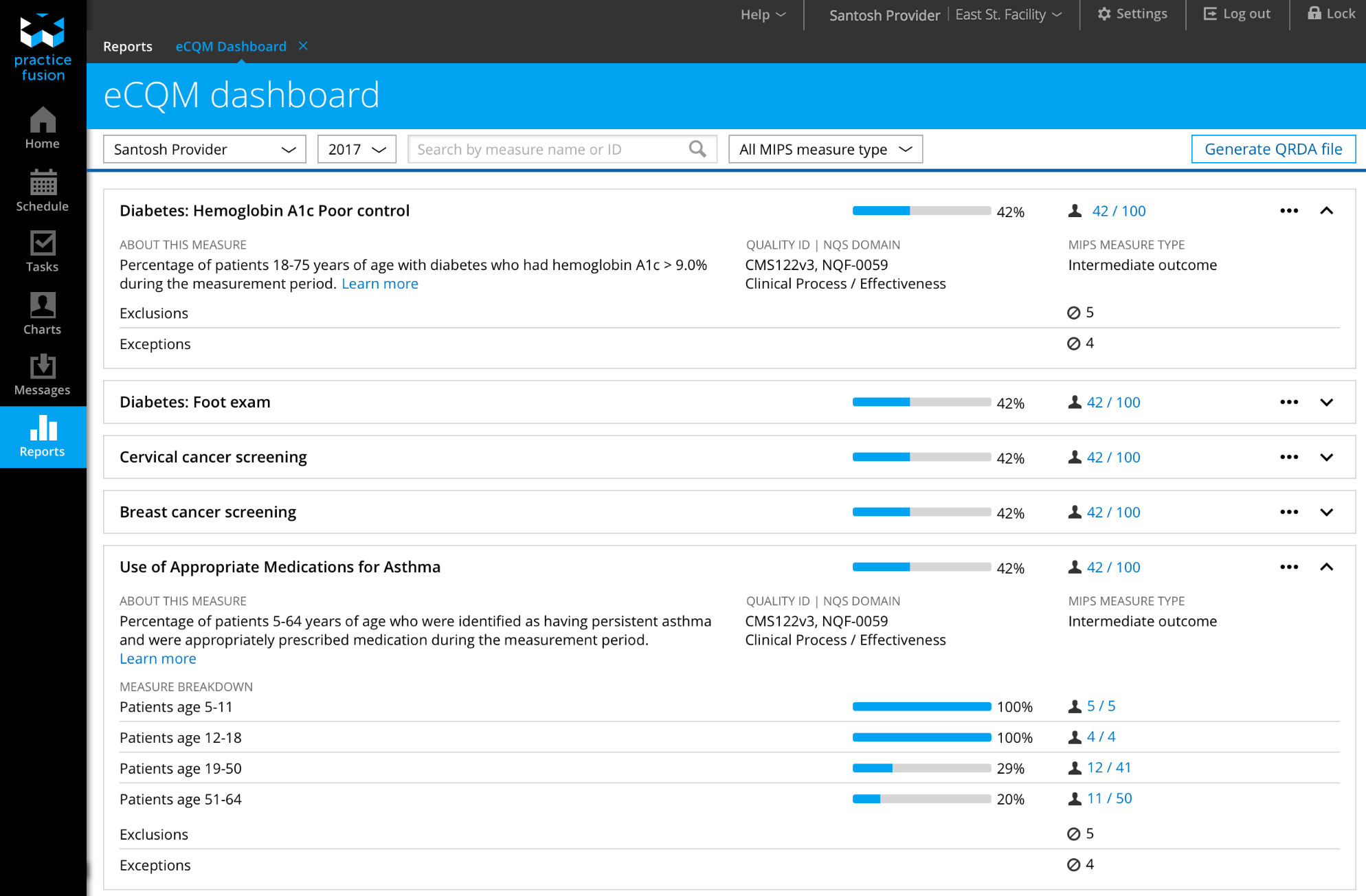 As an intuitive hub for quality measure tracking, the new eCQM Dashboard will allow you to monitor your progress for participating in multiple quality programs, including:
The Merit-Based Incentive Payment System (MIPS)
The Medicaid EHR Incentive Program (Medicaid Meaningful Use)
Comprehensive Primary Care Plus (CPC+)
As the quality performance category under MIPS has replaced PQRS, the new eCQM Dashboard will replace your EHR's existing PQRS Dashboard. Nevertheless, your historical quality data will still be accessible in the eCQM Dashboard by selecting a prior performance year.
Data for calculating eCQMs come from your patient medical records and measure results are updated in the dashboard approximately every 48 hours. The eCQMs in the new dashboard are intended to be used for reporting for the 2017 performance year of the value-based reimbursement programs. Furthermore, you can also use the eCQM Dashboard to help support general quality improvement efforts by your practice as well as to gain a more holistic view of the care you're delivering to patients.
Get started with the new eQCM Dashboard
You can view the dashboard at any time by selecting eCQM Dashboard from the Reports section of your EHR.
Learn more about the eCQM Dashboard and the measures it tracks by reading our step-by-step guide.
More support coming for value-based reimbursement
Practice Fusion is fully committed to helping support your successful participation in quality programs. What's coming to your EHR in the weeks and months ahead includes:
A new dashboard to specifically help you with participation in MIPS.
An expanded range of educational materials in our Knowledge Base regarding measures and activities for MIPS.
New website resources to help you with value-based care.
Practice Fusion is working to obtain 2015 Edition ONC Certification by the end of this year.
Additional support for alternative payment models, including Patient Centered Medical Home (PCMH) and CPC+.
We look forward to bringing you these new tools and functionality and to continuing to support your practice in the shift to value-based care.