Get the most out of patient intake form templates
Patients can now complete your intake forms before their appointments through a new service called Online Check-In. Best of all, there's no need to manually enter the form's responses into your EHR — the information will flow directly into the patient's chart note.
Say goodbye to long patient waiting times — see patients faster and view more complete health histories with. Online Check-In. Our paper intake forms let patients complete all required clinical forms from the comfort of their home, prior to their appointment. This means less waiting and more facetime during patient encounters.
Create completely customizable intake forms – The intake forms for Online Check-In are easy to create and 100% customizable for your practice. You can completely replicate your current patient intake forms, plus you can update a form at any time.
Get more complete forms – It can be easy for patients to forget important details when they're filling out forms in the waiting room. Now patients can complete your forms at a convenient time when they have access to all their medical information.
Save time for your patients and staff – Your patients save time by not having to complete paper forms in the office, and your staff saves time by not having to scan or enter the form's information into your EHR.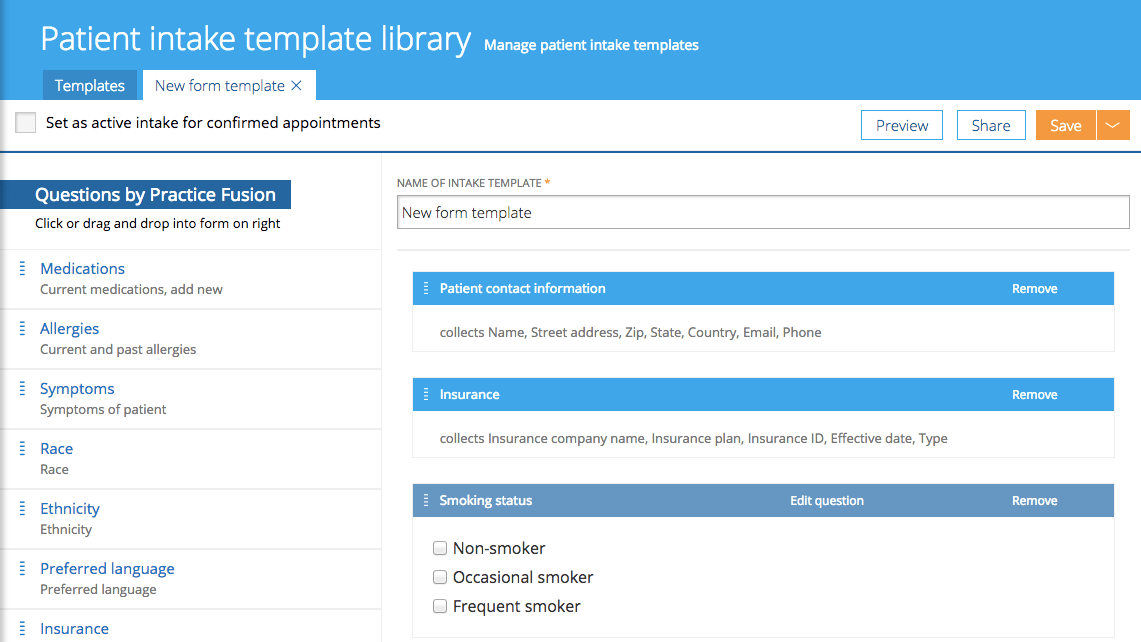 To learn more about patient intake form templates, click here »
Sign up today to see how you can be customizing and sharing templates in minutes.